Las Vegas is known as the city of sin and it's not hard to imagine why. Las Vegas is a destination known for its casinos, its shows, its wonderful hotels, lights and speedy weddings, among other things.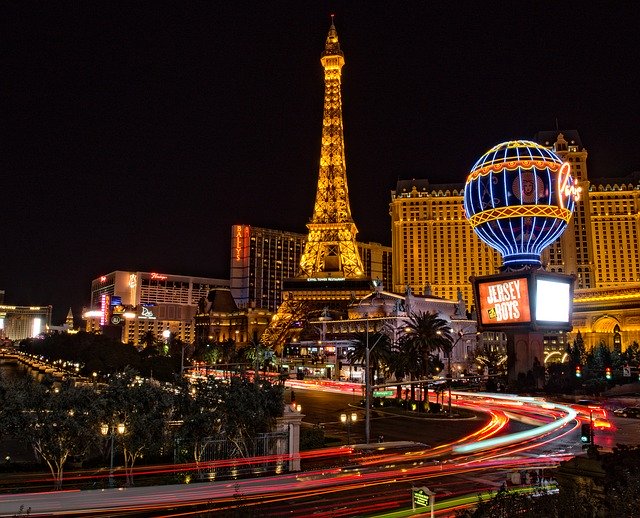 A city built in the middle of the desert that, year after year, attracts travelers from the United States and the entire world attracted by the wildness, the color and the days of game, party and entertainment that can be spent there.
Thus, from the team of Lets Travel More, we have gathered and prepared the following interesting data to get to know Las Vegas through the numbers of 2019. Some of them are surprising numbers and others that only confirm certain beliefs that have been held about the city for many years.
Statistics about games in Las Vegas
68% of visitors play slot machines, 39% attend bars and nightclubs, 11% come to the city for business meetings, conventions or corporate meetings, while 7% attend magic shows. Additionally, weddings are reportedly the second largest industry in the state of Nevada.
The Games
Regarding the games themselves, the numbers say that 87% of visitors end up gambling, 68% opt for slot machines, while the rest opt for roulette or blackjack. 13% Of visitors admit that they come to town in order to play in casinos, 6.5 is the average of casinos visited by a traveler during their stay in Las Vegas, 4.5 is the average number of hours a tourist spends in a gambling house, and $500 is the average amount of money a person spends on gambling during the time they spend in the city.
So how do travelers pick which games to play at the casino? If you are new to gambling in Las Vegas casinos, you should examine yourself a little to find out what your goals are for a casino gambling experience. Do you just want to have fun and maybe win a little money? Do you want to challenge yourself intellectually and be rewarded for making smart decisions? Do you want to enjoy a few drinks while you wait for a huge prize that changes your life?
Betting is for fun, understanding what kind of fun you are looking for is the first step in choosing which betting game you should participate in. Imagine that you are the type of person who likes to dream about all the cool things you could win in the lottery, you know the odds are against you, but only the unbelievably small chance of winning a life-changing prize makes your breathing accelerate; if that describes you, then you should find some progressive slot machine games to play, a percentage of each coin you play accumulates to the shared prize you are eligible to play for on the machine, it's like playing the lottery, only with more frequent and smaller payouts; But unlike the lottery where you have to wait for a draw on a specific day, you have the opportunity to win a big prize with each spin.
On the other hand, let's say you are the type of person who enjoys a mental challenge, you consider yourself quite intelligent and you are also a sociable person, you want something in which the decisions you make affect your earnings, but you also want to enjoy being surrounded by other people; so you should consider blackjack tables or poker rooms.
People at blackjack tables tend to be very sociable and the decisions you make affect how well you will fare, so you can have some satisfaction with this, poker players are usually even more sociable and if you're motivated, you can learn how to consistently win in poker games with some poker tips.
Other Events
Seven out of ten visitors confess that they decide after arriving which show to witness. Thus, 37% are inclined to acquire tickets to see Broadway shows and great productions.
But weddings are, without a doubt, one of the most interesting curiosities of Las Vegas. In this way, 300 are carried out per day, the average age of men who decide to marry there is 39 and that of women, 35. For its part, the price of the license for the ceremony is $60, while filing for divorce will cost you $450.
How about people who must attend a convention in town? Well, 52% are very interested, 42% are more indifferent, while only 2% show no interest in this regard.
As for entertainment, 39% attend bars, nightclubs and salons, 24% opt for theme parks, amusement parks, water parks or virtual reality rides, and only 2% decide to enjoy a spa.
Final Numbers
Las Vegas has 1,701 gambling venues, 122 casinos, 176,995 slot machines, 500 churches and is the most visited state in the United States of America for entertainment among travelers.