Choosing a Greek island for your summer vacations entails spending endless hours under the bright Mediterranean sun, swimming in cobalt waters, and enjoying sandy shores. Now, if Mykonos is your summer destination, things instantly take a different turn and get even more exciting and colourful! For those planning a Mykonos holiday, heading to the popular beaches with the intense festive vibe the likes of Paraga, Paradise, and Super Paradise is what everybody would expect from them. However, we give you four shores that will reward you for sure, even if their party atmosphere is not as lively as their other counterparts. Each one attracts different types of visitors and provides various kinds of activities.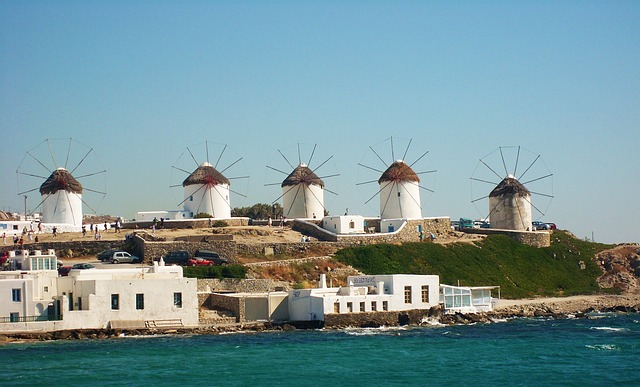 1. Agia Anna Beach
Agia Anna is an easy walk from the beaches of Platis Gialos and Paraga and offers tranquility and relaxation. Although it is within walking distance from four major and celeb-favoured Mykonos shores (Psarou, Platis Gialos, Paraga, and Paradise), it still provides impressive serenity. It's also an ideal option for people seeking to inject a bit more romance into their relationship with their partner. Expect crystalline, shallow waters and sandy shores featuring large rocks that many loungers prefer to soak up the sun.
Note that there is a second beach with the same name. The other Agia Anna beach is close to Kalafatis beach and also welcomes visitors to a sandy shore. It is situated next to a fishing port and is one of the most traditional beaches in Mykonos, with a lovely taverna serving fresh seafood. You will also find sunbeds and umbrellas for rent and fewer crowds than its twin.
2. Agios Ioannis Beach
This smallish yet absolutely striking beach got a place under the spotlight after filming Shirley Valentine in the late 1980s. Indeed, the award-winning movie filmed on the beautiful southwest coast is the reason behind the beach's popularity. Nevertheless, it is still appreciated by Mykonos visitors for its pristine waters, soft sand, and inviting atmosphere. Not to mention the amazing views over Delos island lying on the other side of the Aegean Sea.
If you want to get away from everything, this is the place to be. Not too far from Mykonos Town and its vivid nightlife and not too close to the packed-full capital, Agios Ioannis pampers with water sports facilities and plenty of opportunities for snorkeling and swimming.
Being a particularly family-friendly shore, Agios Ioannis is an area in Mykonos that hosts some of the most luxury hotels in Mykonos, just a short walk from the beach. Rightfully so, considering what it offers!
3. Agios Sostis Beach
You will find Agios Sostis beach on the northern side of Mykonos, which makes it perfect for windsurfers and people loving water sports that could use a little push from the wind. Why so? The Meltemi winds are strong northern winds that blow at Mykonos, turning its northern side into a windsurfer's paradise!
Agios Sostis is away from Mykonos Town and, therefore, remains significantly less crowded and unspoiled than the southern shores. Also worth noting is that Agios Sostis is a nudist-friendly option. Don't forget to bring your umbrella and some essentials with you, though. There are no tourist facilities here, which is part of its overall charm!
And, if you decide to stay long enough, you will be rewarded with captivating sunset views, and sea panoramas as the sun slides behind the horizon and the lights from tourist ferries, fishermen's boats, and luxury yachts shimmer in the Mediterranean.
4. Agios Stefanos Beach
Adjacent to Elia beach, Agios Stefanos is the second most populated gay beach in Mykonos (after Elia). A wind-protected shore that provides lots of tourist delights, including several restaurants and water sports. Although gay crowds often spill to Agios Stefanos when they cannot find a spot at Elia Beach, Agios Stefanos attracts all sorts of people of all ages.
The long, sugary shore spoils visitors with shallow waters and a lovely calm sea, perfect for swimming. No wonder it is a favourite spot for both locals and tourists alike, especially those wishing to sunbathe, wander, and swim with their birthday suit!
That being said, you even get to choose the level of privacy you want, since Agios Stefanos is split in half, with one side featuring nothing but sand and the other being more organised, with sunbeds and umbrellas.
Feel free to combine the experiences and activities provided by each beach, though, and live the ultimate Mykonos seaside adventure!