Mykonos and parties go hand in hand. This is just the way things are on the cosmopolitan Greek island. And, when seeking glam, lux, and style in an already vibrant night scene, a certain beach is the first to cross our minds – Paradise Beach. Located between two other
extremely popular shores, Paraga Beach and Super Paradise Beach, Paradise Beach is just 6km from Mykonos Town, the lively island capital. Needless to say, it is one of the most famous Mykonos spots offering numerous points of interest and amenities to please
even the most discerning visitors.
But, how much do you know about Paradise Beach? Before you hit that gorgeous little party mecca in Mykonos, do spend a few minutes going through these tips and information. They'll help you sync with the irresistible Mykonos vibe a moment earlier!
Where it all began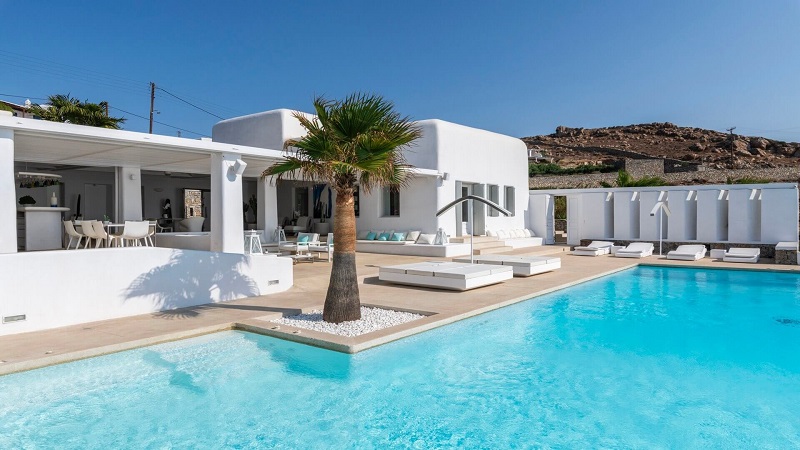 A few decades ago, Paradise beach was primarily a camping site south of Mykonos. Then, in the 1960s, when nudism became a hot trend among the hippies, Paradise Beach was the first shore on the island to welcome nude hippie bathers. That's how a culture started to shape around the specific beach, introducing it to the rest of the world as a hotspot for those looking for fun beyond the strict societal and cultural limits.
Not long after, Paradise Beach was the go-to party destination, with an increasing number of tourists spreading the news about a Greek island shore with a profound passion for music, love-sharing, and partying till the wee hours. As years went by, more and more international DJs would fly to Paradise Beach, setting the foundation for the kind of parties Mykonos is legendary for.
What to expect from Paradise Beach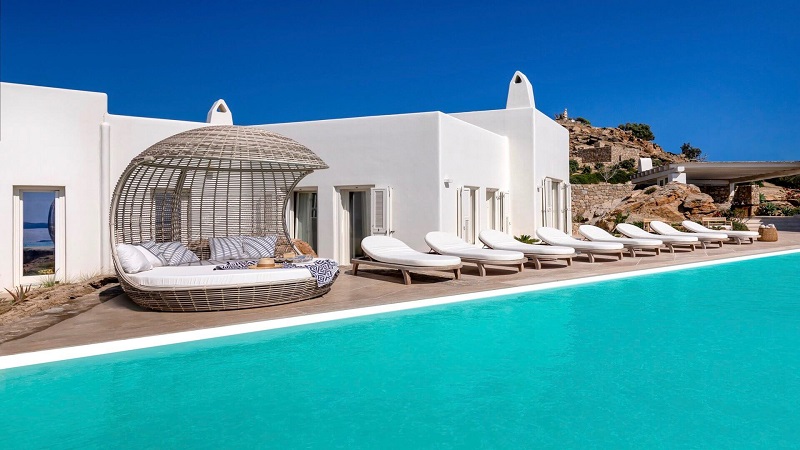 Paradise Beach is a flat, sandy, and well-organised shore with lots of showers, sunbeds, umbrellas, and roomy parking lots. You will also find extra facilities, such as Thai massage, safe deposit boxes, and Wi-Fi, at an extra cost. You may even ask to have your drinks or
snacks delivered to your sunbed.
Let's not forget, though, that Paradise Beach is synonymous with partying. So, one would rightfully look forward to lots of popular beach bars to support this fame. Indeed, there are several options to choose from, which host events with special guests throughout the summer months.
Wild clubbing aside, Paradise Beach also offers plenty of opportunities for jet skiing, water skiing, diving, and other water sports. Plus, a nudist-exclusive spot on the coast, as well as a fully-organised camping area. No wonder some of the most luxurious and elegant Mykonos villas are found around Paradise Beach. This place is a real catch for celebs, jetsetters, a-lists, and humble mortals alike!
As soon as the sun vanishes behind the shimmering Aegean Sea, the beach transforms into a massive nightclub with people drinking, dancing, and having fun until the early morning hours.
Getting to Paradise Beach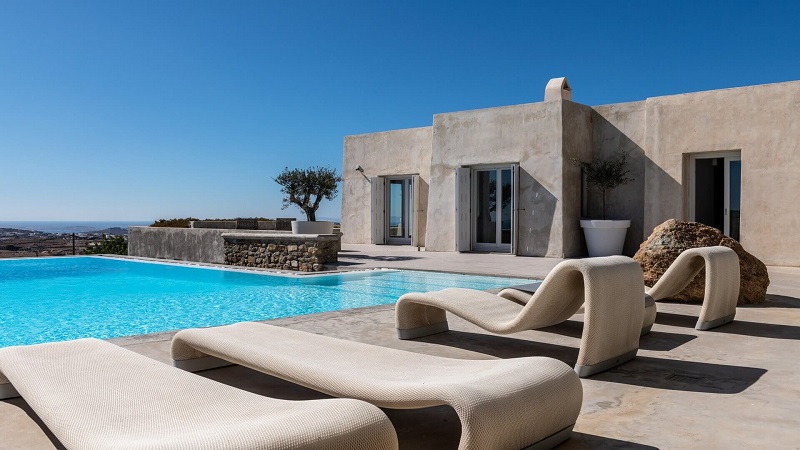 You may pick any of the following ways to reach the shore:
❖ Private transfer – Use either a Mykonos transfer service or the concierge services provided with your villa rental. You will get transfers with a private VIP car, minibus, or taxi (depending on the delivered services) from the airport, hotel, port, or another
destination of choice.
❖ Taxi service – You may call a local taxi driver to pick you up and take you to Paradise Beach.
❖ Car rental – Renting a car in Mykonos won't cost you a fortune, unlike most other services provided on the island. You will pick up your car rental from your villa, hotel, port, or airport and use it however you please.
❖ Boat (aka taxi boat) – You will find small taxi boats at Platis Gialos and Ornos taking visitors to Paradise beach.
❖ Sea buses – They connect the Old Port with the New Mykonos port, while some of them stop at Paradise Beach. You may check out timetables and routes here.
❖ Public transfer – A Mykonos Town→Paradise Beach bus route departs from the Fabrika central bus station in Mykonos Town. You may even get buses to Paradise beach from the Old Port, the Mykonos airport, and the Tourlos port. Here are the official timetables.
Have fun!