Bangkok is a true gem within Southeast Asia. The city is a multicultural meld where tradition meets modernity. The old and the new are comfortable bed fellows in a city that doesn't sleep.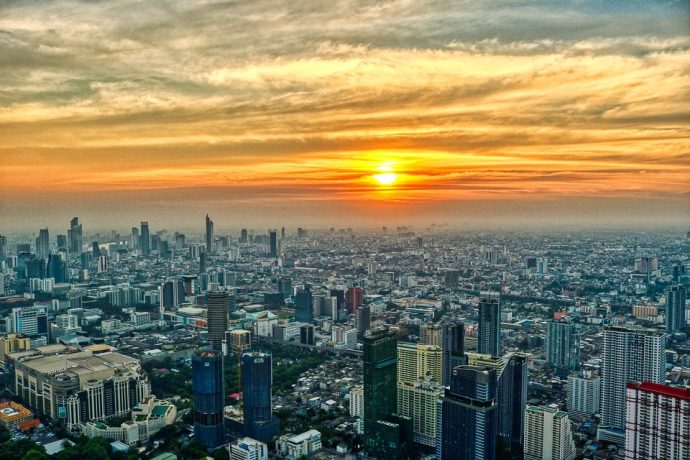 The frantic hustle and bustle of daytime Bangkok is similar to that of any major city. The scale of population conveyance is mind boggling. The Skytrain, metro system, busses, the colorful taxis and the ubiquitous tuk tuk, all playing their part in the organized chaos of Bangkok's daylight hours.
Quiet Serenity Is Easily Found Beneath Bangkok's Frenzied Chaos
Away from the frenzied streets there is tranquility to be found in the city's parks and gardens as well as the serenity of the hundreds of temples. There are many diverse attractions offering escapism, which is just below the surface of Bangkok's day to day life.
A visit to Jim Thompson's house is a peaceful insight into Thailand's silk industry. Visiting Ocean World is a wonderful escape for visitors of all ages. Having lunch on a leisurely river cruise is a great way to relax. Gaze in awe at the gold laden temples, stop off at the Orchid Farm or the Royal Barge Museum and barter for goods with the river market traders. For anyone who is ophiophobic, why not face your fears at the Snake Farm.
With so many stimulating places to visit, here we can only name but a few.
Historical Splendor and Magnificence Awaits the Visitor at the Grand Palace
The Grand Palace has been the official royal residence of Thai monarchs since 1782. The historical significance of the palace is obvious to any visitor, but it soon becomes apparent that it has deep cultural importance to the hundreds of locals that visit the palace every day.
The Awe-Inspiring Reclining Buddha at Wat Pho is a "Must See"
Construction of the Reclining Buddha goes back to 1832 and is truly eye-popping. At 15 meters high and 46 meters long of glistening gold, this splendiferous effigy is an unequaled vision which really must be seen.
Shopaholics Will Not Be Disappointed with Bangkok's Retail Offerings
Shopping Thai style can be experienced at Bangkok's many markets. If you love markets, Chatuchak weekend market is a must. Thought to be Thailand's biggest market, here you can buy literally anything. A word of caution, arm yourself with a market map or you're sure to get lost.
If you prefer the glitz and glamour of modern shopping malls, your paradise is at hand. Bangkok has numerous modern shopping malls, with all the big-name shops selling all the top brands. Fashion, tech, leisure, household goods plus great restaurants and cinemas. Look out for Siam Paragon, Terminal 21, MBK, Siam Center or Siam Discovery, these are all easily accessed by the BTS Skytrain and are known to all the taxi and tuk tuk drivers.
Venture out and Experience Bangkok's Unique Nightlife
As the sun starts to sink in the sky, Bangkok morphs into its nocturnal alter ego. Bangkok's night time persona is one of music, dancing and merry making fun. There are bars and restaurants aplenty, they can be found in almost every street with themed venues, such as Hooters, becoming ever more popular.
But for evening cocktails, the choice of the trendy, image conscious visitor is one of altitude drinking, at one of the cities numerous rooftop bars. Gazing across the twinkling lights of the night time skyline in the cool air and comfortable ambience creates a feeling of salubrity, in stark contrast to the mayhem of street level.
Vertigo, Octave, Bar Three Sixty, Above Eleven, plus many, many more offer excellent food and drinks with top level service. As with all good venues, they are well known and easy to find.
Visiting Bangkok is an experience that lasts a lifetime. The history, culture and tradition go hand in hand with modern living and leisure. With great offers and deals it couldn't be easier to be part of this Eastern gem. Don't miss out, just check it out.