Are you dreaming of getting away from work, home and your usual routine? Well, perhaps you need a holiday. The good news is that there are plenty of great deals going for those who are prepared to book a trip at short notice, throw things in a suitcase and head straight to the airport. If you're up for it, here are five tips for booking a last minute getaway…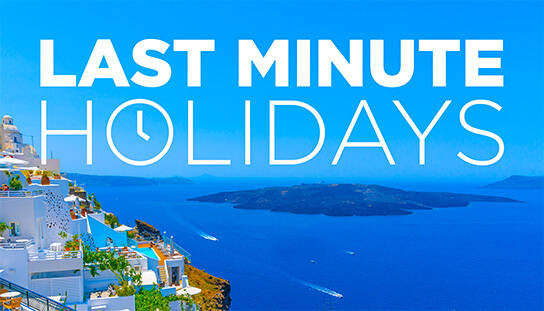 image source: here
Step outside your comfort zone
If there's one thing a last minute getaway should encourage you to do, it's to try something different. After all, you've summoned the courage to throw caution to the wind by booking a holiday without massive forward-planning, so why not continue along those lines by exploring somewhere new?
Steer clear of tourist traps and opt for lesser known destinations, or simply switch up your usual beach break for a week in a city. It's a fantastic way to expand your horizons and experience a culture or environment you wouldn't usually opt for, and who knows… perhaps you'll try some new dishes or pick up some phrases of a new language? Look for good deals through providers such as Travel Republic – they frequently offer last minute getaways at great prices.
Research the weather
While throwing caution to the wind is a good thing when it comes to last minute getaways, you should be a little more prepared when it comes to knowing about the weather. For example, some locations experience monsoons and other stormy conditions at particular times of year, while others are much warmer and drier than you may expect. So, do a little research and pick your getaway destination at least in part on the kind of weather you're looking for.
Plan at least one thing to look forward to
This tip isn't something you absolutely need to do, but it does help you to get in the holiday spirit – especially if you've booked a holiday that's happening at short notice. Do some research about the activities or attractions on offer in the place you're visiting, and commit to getting round to doing it. Not only will this give some focus and structure to you're trip, but it will help to build the excitement and anticipation you usually feel when you've booked a holiday a long way in advance… meaning you get the pleasure of having something to look forward to without the agony of waiting too long!
Book at the right time
Obviously, if you're considering a last minute holiday, you probably don't have tons of flexibility when it comes to choosing your dates. But if you have any say in the matter, try to book a trip away during low season. For instance, January is generally a very cheap time to travel, so you're bound to snap up a well-priced last minute deal if you can go away at the beginning of the year.
The weeks either side of Christmas are generally a whole lot cheaper than Christmas itself, so it can really pay off to travel before or after the festive season. That doesn't mean you can't find some good last minute deals during peak season – such as summer in Europe – but you'll just need to be prepared to pounce on a good deal when you see it.
Sign up for travel newsletters
Finding a great last minute holiday takes some serious research. So, why not increase your chances of finding the perfect holiday package by letting the travel agencies do some of the hard work for you?
Sign up to airline and travel agency newsletters so that you're on their mailing list: they generally let subscribes know about the best deals ahead of the general public, so you'll be first in the queue to snap up cheap plane tickets or a bargain hotel room. Get notifications of promotions, discounts, special packages and last minute deals delivered to your inbox… but just be careful not to find yourself with a serious case of wanderlust while you're sitting at work!