For obvious reasons, we travel to Italy several times a year. Not long ago we realized that it was more convenient to rent a car for the days we were in this beautiful country, than to get involved with trains and buses. Because renting a car in Italy is, in addition to cheap, an excellent idea!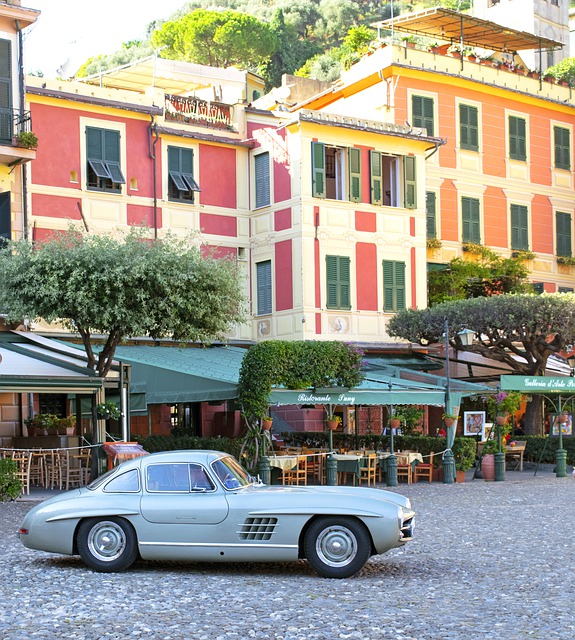 But before that, we had already taken a car trip through Italy, we toured Tuscany from top to bottom, we entered the charming pre-Alpine region of Friuli or we visited Lake Como and its surroundings. And we are hooked on roadtrips, it is our weakness, what are we going to do?!
Now you will understand that we can not do anything other than recommend renting a car in Italy and tour some of its beautiful (and many) regions. In this article we are going to tell you a few things to know before renting a car in Italy, those details to keep in mind so that your road trip in Italy is perfect!
1. Is it a Good Idea to Rent a Car in Italy?
Freedom. Although the public transport network in Italy is very complete, renting a car gives you the freedom to not depend on schedules or limit your journeys. You can get almost anywhere, without great planning and with a lot of flexibility.
Share and save. For a few years now, competition for long distances in Italy has been high. By train you can find great deals on Trenitalia or Italotreno. In addition, Flixbus has entered with force and rates so low it's almost laughable. However, you are not always lucky enough to find these offers and if you have to resort to the non-discounted rates, the trip can reach high expenses. If you rent a car and share the expenses, in the end it is very likely that you will save on transportation. Also note that special services, such as transportation to and from airports, are often excessively expensive and have few alternatives.
Crazy about the photos. When you travel by train or bus, there is no possibility of taking good photos. Sure you go through very cool places, but they last 2 seconds from the window. By car you can stop, stretch your legs and take a good photo.
2. When not to rent a car in Italy?
But it is not always advisable to rent a car for a trip to Italy. If you have only planned to visit a city like Rome, Venice, Florence obviously it is nonsense.
In addition there are areas where it is not a good idea to drive, for example the center of Naples has a reputation for being a total chaos, in Cinque Terre you will have to leave your car in one of its towns (such as La Spezia), or walk with a great eye in summer in very tourist sites such as Lake Como or the Costiera Amalfitana.
3. The best roadtrips in Italy
After seeing where it is not convenient to go by car, now we tell you the places where you will have a great time if you travel freely.:
Tuscany: for its small towns where line buses do not arrive, for its incredible landscapes, for its quiet secondary roads surrounded by fields, because you do not eat badly anywhere, because of how easy it is to drive.
Lake Como: for its villas at the foot of the lake, for its winding road that surrounds it, for its flirtatious but at the same time village atmosphere, for its proximity to Milan.
El Friuli: for its people, for its mid-mountain villages, its fairytale forests and lakes, for its popular festivals, its gastronomy and its big heart.
Sicily: for its beaches and coves, its authentic corners, its long and intense history and for its accent.
Puglia: for its food, its trulli, its beaches (which are not for nothing known as the Italian Maldives) and for its beautiful towns.
4. Laws Tourists Should Know When Driving in Italy
Driving is very similar to the rest of Europe, so you don't have to worry. But if you have to take into account certain aspects:
Tolls: the vast majority of motorways in Italy are paid. They are called autostrada, and they are marked with green signs and the A- followed by their number (also with the E, by European standards). Tolls are not cheap, thus we only recommend driving on these roads if you really need to or the alternative is lousy.
Speed ​​limits: depending on the type of road you are driving on, from 130 km/h in autostrada, 110 km/h on secondary roads, to 50 km/h in urban areas. Also in Italy there are many cameras to fine for exceeding these limits.
Limited traffic zones: Most tourist cities and towns have a limited traffic zone (ZTL) in their historic centers. You can pass them, but then you will get a fine. Only authorized vehicles should circulate in these areas, and in many cases, the signs that define them are almost imperceptible! Pay attention! The signs are white with a red circle. To look up the ZTLs and their times, go to Google like this: "ZTL [city written in Italian]", and there are probably also maps, so type "maps.google ZTL [city written in Italian]"
Be careful with Google Maps. Its gps can sometimes put you on bad roads, trying to avoid tolls and highways. Tip: just do the search with the "no tolls" option. It is best to study the route a bit before leaving, and improvise as little as possible.
Gasoline: it can be quite expensive. The super 95 is around €1.65 per liter, and the diesel is around €1.50 per liter.
How do Italians drive? Well, a little crazy. They tend to go fast, stick close to the car in front, gesturing, they don't stop at crosswalks. But nothing that is not fought with patience and love of neighbor. The important thing is to stay calm, always.
One-lane roads per direction that become two. As such, we have traveled many times on single-lane roads in each direction of traffic, but quite wide, and they themselves make it into two lanes. How? They are placed quite to the right, and facilitate overtaking. There is no mark on the road, nor is it legal, but they usually do. Don't be forced to do it yourself, if you think it's dangerous.
5. Park in Italy
In the small towns and also in the big cities of Italy there is usually an area (usually a bit far from the center) with free parking. For this, it is best to google "free parcheggio X" or even on the google maps themselves they usually appear. If not, well-marked pay zones cost between €1 and €2 per hour (sometimes with time limitations, for example maximum 3 hours).
6. How and where to rent a car in Italy?
There are many websites where you can rent a car in Italy. There are many comparison sites of different rental companies, offering the best prices.
Reservation process
Enter the website, select the origin and destination (can be the same or different), dates and times. The tool will give you all the options of cars, prices, companies … Just choose the one that best suits you, review the details of the rate and continue. The next step will be to choose whether you want to expand coverage, or to keep the basic package:
Basic package: includes franchise insurance and the basic aspects of the reservation (taxes, administrative fees, liability insurance, etc.). If all goes well, this would be the total amount that the car rental will cost you.
Franchise return package: in case of an accident, you will not have to pay anything. The supplement is usually one amount per rental day.
Franchise return package with super cover: in addition to eliminating the franchise, it includes damages to the windows, wheels, roof and bottom. The price per day is higher, but you are completely covered.
We usually pay the extended insurance, which covers any damage. In this step, we will also see all the detailed information of the reservation, on the left side of the screen.
The last step will be to fill in all your data, the card to make the payment, and optional equipment. It is also the moment to indicate if we are going to travel to other countries.
When making the payment, the voucher of the reservation will arrive to your e-mail, and it will be what you have to present at the office when you collect the car. Renting will already be paid, but there may be a fee you have to pay there. This has to be specified in the reservation, there should be no hidden rate.
To consider
Coverage: each rental company has a different coverage. The basic rate usually includes franchise insurance, which will be the maximum you pay in the event of an accident (between € 800 and € 1,500). To know this figure, other coverages and more options, click on the "rate details" button.
You can always extend coverage and include full-risk insurance (without excess), roadside assistance, loss of keys, optional equipment, etc … Everything, of course, for a supplement. This is done directly in the office, collection point, or in one step of the online reservation.
Other damages: keep in mind that most basic and extended insurances that only eliminate the franchise, do not cover damages to the windows, wheels, roofs, underbody and interior of the vehicle.
One way rate: in case you deliver the car to a different office than where you picked it up. If it is the same city, but different points (for example, pick up at the train station and return at the airport), this fee will be small (about €15). But if they are two distant offices, it can be several hundred €.
Pick up and return time: keep in mind that if the return time is later than the pick up time, they will charge you one more day. For example, if you put pick up on day 1 at 10:00 in the morning and return on day 10 at 11:00 in the morning, you are being charged 11 days instead of 10. We always try to put half an hour of difference (for example pick up at 11:30 and return at 11:00).
Unlimited kilometers: it is usually included in reservations, but check it out!
GPS: we have never taken it, with the Maps.me app and having downloaded the offline map from Google Maps, you can manage. Also now that roaming no longer exists in Europe, you can use your phone as a gps connected to the internet.
Credit card: regardless of the payment method of the reservation, the company will require you to present a credit card to the collection office to make a security deposit. And it has to be in the name of the main driver. Once you deliver the car, this amount will be unlocked (if everything went well, of course).
Cancellation and modification of the reservation: it is free up to 48 hours before picking up the car. One tip is to keep doing the same web search several days later, because the price may have dropped. If this is the case, call the agency and they themselves will modify the reservation with the new price. The difference is returned to you.
Necessary documentation: when you pick up the car, you will have to present the agency voucher, the driving license of all drivers (with a minimum of 2 years old), a credit card and the DNI. For citizens from outside the European Union, they will also have to present the international card and passport.
7. Can anyone rent a car in Italy?
Broadly speaking, yes. Citizens of the European Union will only have to present their driving license and ID. However, it is best to get out of doubt and ask directly the rental agency itself.
As you can see, renting a car in Italy is the best way to move around and discover some of its most beautiful corners. We hope that with this guide to renting a car in Italy we have helped you solve your doubts. But if you still don't have something clear, leave us a comment!