As we all prepare to welcome the New Year, beware that change is coming to the luggage world in 2018. Frequent flyers including those who will be travelling for the first time should take the time to call and check with their airlines for more details about new luggage restrictions.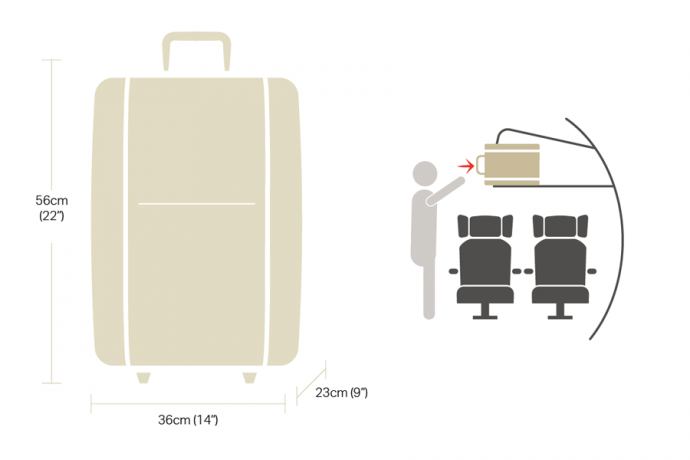 image source: here
In response to these new policies – which ban smart luggage on board and provides new restrictions on hand luggage – manufacturers and retailers such as Luggage Direct have been quick to come up with compliant travel luggage designed to meet your travel needs in the coming year.
Before we take a peek at what's likely to happen with luggage designs in 2018, let's first discuss the new luggage policies which will be implemented by some airlines on 15 January 2018. These new rules will definitely affect many people's travel plans.
Ban on Smart Luggage
If you own smart luggage with non-removable lithium ion batteries, it will work in your favor to say goodbye to it as you bid farewell to the year 2017. The ban on smart luggage may seem an odd policy in this digital age, but concerned airlines want to be safe than sorry. They explained that lithium ion batteries featured in smart bags could spark fires in cargo holds and in overhead compartments.
American Airlines was the first to announce the ban on smart luggage on all their flights. Delta and Alaska Airlines have also announced a similar ban. More airlines are expected to follow according to CNN. The ban will take effect on the same date in January for most of these arilines. However, if you own a smart luggage with removable batteries, you might be allowed to bring it on-board if you remove the batteries. It's best to call your airline for advice just to make sure.
Hand Luggage Restrictions
Another shift in luggage policy is also expected in January next year. Ryanair has announced it will be implementing new luggage restrictions which disallow suitcases with wheels as a carry-on. The new policy however will give passengers greater weight allowance for check-in bags. As at the time of writing, no other airline has been reported to be implementing the same luggage policy, but that may change as they observe the implementation of Ryanair's new policy.
Under the new policy, Ryanair's Priority Booking customers will be permitted to bring two carry-on bags which would include a larger bag and a smaller one. The larger bag must have the following maximum dimensions: 55 cm x 40 cm x 20 cm, and can weigh up to 10 kilograms.
Meanwhile, other passengers will only be allowed to bring on board one smaller carry-on bag (max 35 cm x 20 cm x 20 cm). The larger bags will be checked in free of charge. According to Ryanair, these policy changes will give passengers a 33 percent increase in their checked baggage allowance at significantly lower bag fees. The new policy is expected to eliminate flights delays and speed up boarding of flights.
Best Lightweight Carry On Luggage for 2018
In the light of the new luggage policies which will be implemented by some airlines in 2018, it is time for travelers and frequent flyers to find out if their existing travel bags are compliant with the new weight, size, and feature restrictions. For those who are planning to purchase a new set of luggage, the perfect choice would have to be a lightweight one. Smart luggage was all the rage this year but may not be a practical choice for the time being.
Soft-sided or Hard-sided Luggage
In 2018, the choices for lightweight travel bags will no longer be limited to the soft-sided luggage category. There is now a wide array of lightweight travel bags coming onto the market in the hard-side category. Soft-sided luggage is usually made of polyester and nylon, whereas the hard-sided ones are made of a new lightweight yet sturdy polycarbonate material.
Size Matters in 2018
So far only Ryanair has announced a new luggage dimension restrictions for 2018, but changes do happen every year with many airlines. Beware that each airline can have different restrictions which are determined by the dimension of the aircraft's overhead compartment, but for most airlines the carry-on size limits are 56 cm x 36 cm x 23 cm. However, before purchasing new travel luggage, check the latest luggage size restrictions on the websites of the airlines you will most likely be using.
Interior Compartments
What will distinguish 2018 luggage from older models will be more strategically arranged pockets, chambers and interior compartments that let you better organize your stuff. Many modern travel bags feature padded compartments for electronic devices such as tablets and laptops, and the design of these compartments is always evolving to improve their shock-absorbing capabilities. Some even have airtight chambers now designed for liquids such as lotion and shampoo.
Lightweight hard-sided luggage understandably may not have external pockets owing to its hard case, but it makes up for it by having more interior pockets and chambers than its soft-sided cousins. Some suitcases feature suiters to keep suits from being crumpled during the trip.
Expandability
Another great feature about modern luggage is its ability to respond to changing capacity needs. These bags are expandable to provide you with extra space in case you find an item during your trip that you want to bring home. You need not worry about going beyond your airline's luggage size restrictions, the dimensions of these luggage when fully expanded will still fall within the maximum allowable luggage size limits of most airlines.
To ensure stress-free travel, make sure that your luggage is fully compliant with your airline's luggage policies to avoid delays and paying unnecessary fees. Keep yourself informed of the latest advisories regarding baggage restrictions, and check the websites of the airlines with which you will be travelling a few days before leaving to check there have been no changes.