Imagine this: You and your partner are enjoying the sunset while sitting on beach chairs.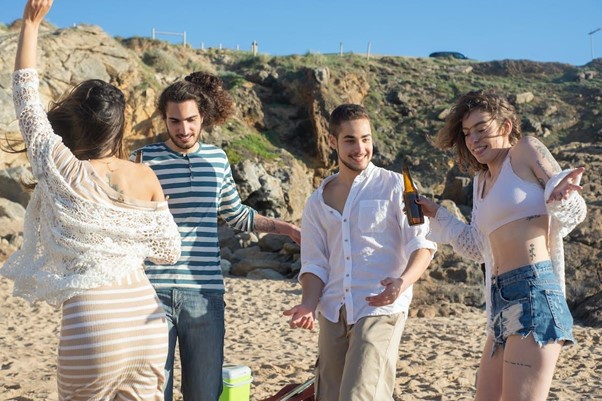 The waves crash against the shore in front of you as you sip on a cocktail and laugh with each other about all the beautiful experiences you've had throughout your vacation. That is what couple vacations are all about.
But to maximize your couple's vacation for the best experience, there are seven things you need to consider:
Destination
The first thing you should consider is the destination. Where would you like to go on your couple's vacation? Do you want to stay close to home and discover a hidden gem or venture further afield for a more exotic experience? Or maybe you would prefer to go somewhere that is neither too far away nor too close but just right?
The best way to decide on a destination is by discussing it together and deciding what kind of experience you want. If you still need to figure out where to go, online guides like Next Vacay vacations for couples can help you get started on the right foot.
Activities
The next step is to decide what activities you would like to do while on vacation. Whether it's going for a hike, trying some local cuisine, or even taking a cooking class together, there are plenty of exciting activities to choose from.
Remember the fun things, too, lounging by the pool, watching a movie together in your room, or simply taking a stroll through town.
Whatever activities you decide to do on your couple's vacation, make sure it brings you joy and pleasure. This way, you can make the most out of your time away together.
Budget
When taking a couple's vacation, you need to consider how much money you are willing to spend. There is no right or wrong answer here, everyone has their budget, which should be considered when planning the trip. Whether you decide to splurge on a luxury resort or opt for a more budget-friendly option, it's essential to ensure that your vacation is within your means so you can enjoy the experience without worrying about finances.
In addition, research any discounts or specials that are available for couples. Many hotels, restaurants, and tour companies offer great deals and packages for couples, so take advantage of them.
Duration
How long are you planning to stay on your couple's vacation? Deciding the duration will help you narrow down the destination and determine how much money you need to set aside for the trip. In general, longer trips will allow you to explore more of the destination and get the most out of your experience.
If you're unsure how much time to dedicate to your couple's vacation, think about what kind of experience you want – a relaxing staycation or an adventure-filled exploration – and go from there.
Transportation
The next step is to decide on your mode of transportation. Are you going to fly, take the train or drive?
Depending on your destination and budget, some options may be more feasible than others. For example, if you're traveling locally on a budget and want to explore multiple cities, taking the train might be the best option. But if you want something more private and luxurious, renting a car might be the best way to go.
Also, remember that some transportation methods may take longer than others, so plan accordingly. If you're taking a plane or train for a long journey, consider booking tickets with extra legroom or other perks to make your trip more comfortable.
Accommodation
Once you have decided on your destination, duration, and mode of transportation, it's time to book your accommodation. Do you want a hotel with all the amenities, or would you prefer a cozy bed and breakfast? The type of accommodation you choose can add to the overall experience of your couple's vacation.
When searching for accommodations, search for deals and discounts available for couples. Many hotels offer special packages or even free meals and activities for couples, so check before booking your stay.
Pack Appropriately
Now that you've planned your couple's vacation, you need to make sure that you pack appropriately.
You want to avoid ending up in a situation where you don't have the right clothes for the activities or the weather of your destination. It is essential to research the climate and activities beforehand to pack appropriately.
Also, take any necessary medications and documents with you – like passports or visas – so you don't have any issues during your trip. With the proper preparation and packing, you can have a stress-free vacation experience with your partner.
Final Thoughts
Taking a couple's vacation is the perfect way to spend quality time together and make new memories. From deciding your budget and duration to researching transportation options and packing, many steps are involved in planning the perfect getaway for you and your partner.
With some preparation and research, you can have a fantastic couple's vacation that you will remember for years. Don't wait any longer, start planning your perfect couple's vacation today!