Travelling and exposing yourself to new cultures can be one of the most life-changing experiences. Sights and scenery – from remote tropical islands to bustling, urban cities – inspire our wanderlust, but getting there isn't so easy.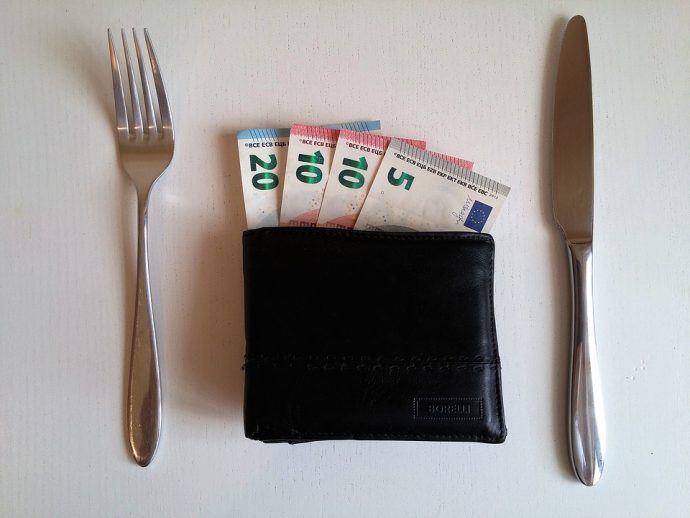 Vacationing takes a lot of money. You need to pay for transportation (to your destination and within it), accommodations and activities on top of your day-to-day needs. In order to get the most out of your travels – without breaking the bank – you'll need to create a budget. Here's how:
Step 1: Determine Where You're Going

If you're trying to build a travel budget, it'll be helpful to keep a destination in mind. While saving in general is a good start, your final number will vary based on your location of choice. Take a look at this chart that shows just how much an average cost of a one-week trip can vary based on destination: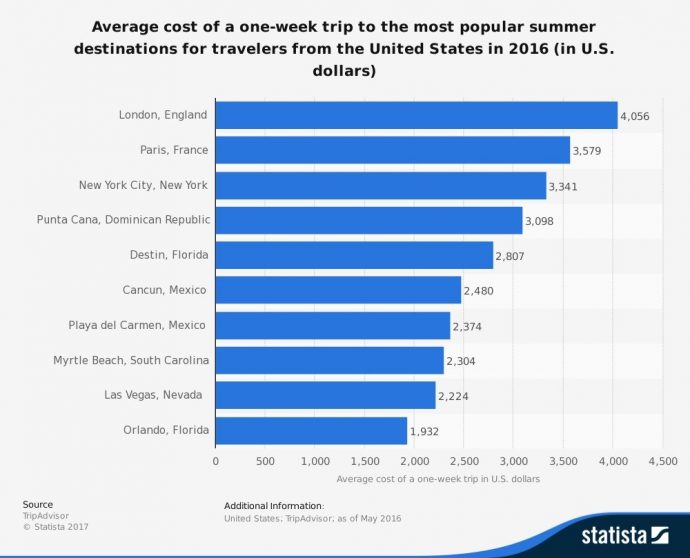 As you can see, your travel location will greatly impact your necessary budget. Note that the graph specifies these average costs during the summer season. The time of year you decide to travel will also affect the expense of your vacation. To save money, travel during the offseason and avoid spiked prices.
Step 2: Establish How to Get ThereNow that you have your dream destination in mind, determine how you'll be getting there. The distance from your point of origin to your final destination will affect your means transportation. Obviously, you can't drive to Europe from the States. Flights are the most common method, but you can travel by boat as well. For those sticking to a tight budget, skip the fancy dinners on an ocean liners and save money by hopping across the pond with the cargo on a freighter! If you're like most people who fly internationally, be sure to scour the internet for sites that find the lowest fares. If you're looking for a luxury vacay, flight first direct to arrive in comfort and style. Otherwise, layovers and economy classes will cost far less and let you keep a little cash in your pocket to spend – or save – while traveling. Flight prices fluctuate, so be sure to monitor them and pull the trigger at the right time. Once you know what airline you're flying with, read through their luggage policy, and see if you can save yourself money by not checking your bag. For domestic trips, planes, trains, and automobiles are all viable options. Research costs and compare these different modes to see what works best for you. Driving might be cheaper, but it can cost you a lot of time, gas expenses, and mileage. Evaluate the pros and cons, then find your final figure.
Step 3: Choose Where to StayAccommodations play a large role in setting your budget. If you're staying at a 5-star hotel, prepare to have a lot more money on hand. For a tighter budget, compromise on a 3-star hotel. To give you an idea of what a nightly hotel will run, here are some statistics on the average costs during the peak season:If you're looking to save money, compromise on a motel or an Airbnb. For the best savings, stay at a hostel instead! They're very affordable and a great way to meet new people – especially if you're traveling solo.
Step 4: Start Saving!
Once you know the cost of your transportation and accommodations, ask yourself if there's anything else you need to include in your budget. Are there any must-do's on your vacation list? Do some research in advance to figure out just how much that museum entry to river rafting excursion will cost you. Don't forget to allot for daily necessities such as food and water, and always allow for some wiggle room Now that you have the figure you're budgeting for, it's time to start saving. Cut costs anywhere possible. Eat in instead of going out; buy generic over brand names. Try using saving software that can help you reach your goal more quickly, and utilize tax relief services to free up your finances even more. Practicing frugality isn't easy – try placing an awe-inspiring photo of your dream destination on your fridge, or set it as your wallpaper or screensaver to help keep you motivated!
Pretty soon, you'll be on your way in no time. Happy travels!