The Amalfi coastline is home to several stunning destinations, but perhaps none as remarkable as the island of Capri. Known throughout the region for several reasons, from its beautiful surrealistic landscapes to its classic architecture, from its luxury shopping and vibrant nightlife to its delectable cuisine, the island should be at the top of everyone's bucket list. The ideal winter-getaway holiday destination, let its jagged cliffs, turquoise coloured sea, and pastel-coloured houses covered in bougainvillaea entice you. Here we share why you should visit Capri via a luxury charter yacht at least once in your life.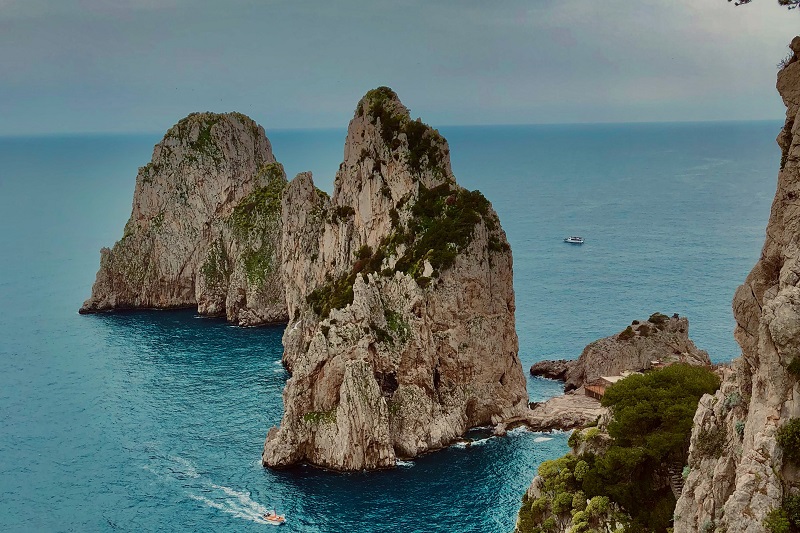 Have you ever wanted to sit back and just watch the world go by? What better place to do that in a charming town square? You'll be surrounded by locals, visitors and a-listers alike at Piazza Umberto 1. Also known as Piazzetta, you'll also be spoilt for choice when it comes to which cafe or restaurant you wish to frequent. Take your pick and enjoy listening to the clock chime every 15 minutes as you sip a cappuccino or after dinner digestive. If you happen to get hungry, then sample some authentic cuisine, like a Caprese salad or wood-fired pizza. As Naples is less than an hour away, the island has many trained pizzaiolos, next to a wide range of fresh seafood. For dessert, try a slice of Torta Caprese, the islands famous dense flourless chocolate cake.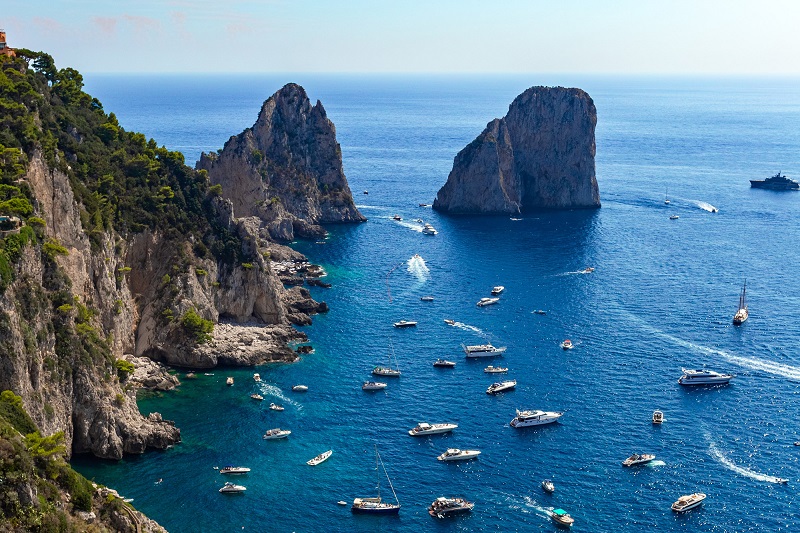 After you've had your fill of local food, you should head to one of the island's private beach clubs, where you can sunbathe and relax under the sun in privacy. If the glistening waters are beckoning you, take your tender and explore the island's many rocky cays and hidden coves. Don't miss out on visiting the world-famous Blue Grotto, a cavern with an extraordinary optical effect. Made by the sunlight reflecting on the cave walls, the water appears to go an electric blue shade. Once you've enjoyed a private tour of the grotto, why not take a closer look at the massive rock formation Faraglioni? Pause for a refreshing dip in the waters if it is warm enough before heading to the beach club or back to your yacht to unwind in complete privacy and luxury.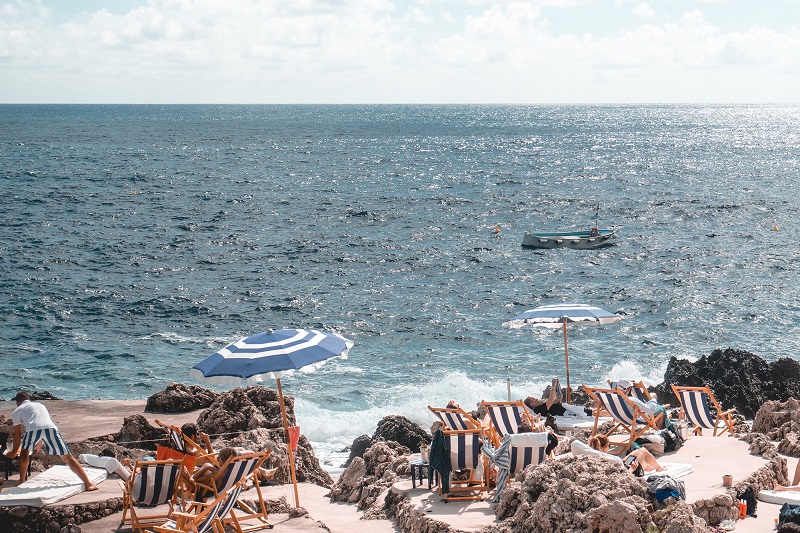 As the island is home to two separate towns, Capri and Anacapri, you can take your time exploring both. Capri, the larger of the two, is more contemporary, with luxury boutiques, Marina Piccola and Marina Grande and a thriving nightlife scene. However, her smaller sister town offers an idyllic taste of Italian life, filled with quaint cafes, stores and winding streets. To enjoy unrivalled views of the village and island, take the chair lift to the top of Monte Solaro. But if you want to challenge yourself during your visit to Capri, why not climb the 921 Phoenician stone steps that connect Anacapri to Marina Grande? The island is home to several wild hiking and walking trails, making it the perfect destination to get out in nature. The Pizzolungo consists of a series of steps, a wooded trail and a paved path, that take trekkers from the Arco Naturale (Natural Arch) through an ancient forest grotto, past the modern architectural wonder of the Casa Malaparte to an exceptional lookout point over the Faraglioni. On the other hand, the Path of the Little Forts in Anacapri is a nice walk to enjoy if you want to watch the beautiful sunset over the lighthouse.
Why not book a Capri luxury yacht charter today with so much to do and see?