Hawaii is an easy choice for vacationers who love relaxing in the tropical weather— and who doesn't? Traveling to Hawaii means delicious meals, incredible insights into local culture and history, and of course, great beaches. One of the best ways to see the islands is to stay in one of its many Hawaii luxury homes available for rent. Staying in a luxury home ensures you have all the comforts and amenities you need, while still having an authentic local experience. By staying in a real home you get to walk outside your door to explore real neighborhoods, not just streets and resorts filled with tourists. When exploring a place as unique as Hawaii, there's a lot to be said for getting out and seeing it like a local, especially if you're interested in discovering the best of everything.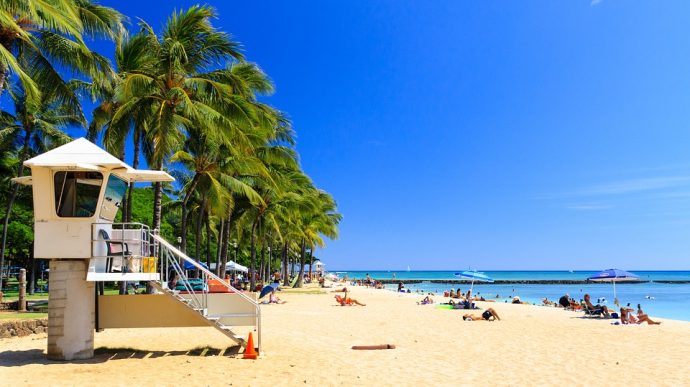 image source: here
One of the main reasons visitors flock to Hawaii each year is its incredible beaches. The islands of Hawaii are known for their breathtaking landscapes, including majestic waterfalls, green mountains and volcanic remains. With so much to choose from, it can be hard to see what's really the best. Here's a list of 10 amazing beaches in Hawaii to help guide your next trip.
North Shore, Oahu
North Shore isn't just a beach, it's more like a neighborhood— and a favorite hangout for locals and tourists alike. It's most commonly known for the epic and world-class surfing that takes place. The beach itself has tons of space to stretch out and watch the surfers, or wander nearby to explore historic petroglyphs, swimming sea turtles, or snag an amazing meal from the Polynesian Cultural Center.
Lahaina Beach, Maui
If you're traveling to Maui with little kids, look no further than Lahaina Beach. While the views aren't as impressive as other more frequented coastal spots, the water here is incredibly calm for Hawaii. Unlike the monster waves that crash on other parts of the island, this beach is protected by the coral reef, and shallow slow water conditions make for the perfect spot to take kids allowing parents relax onshore.
Waikiki Beach, Oahu
Probably one of the most famous beaches in Hawaii, this is the typical place to bask in luxury if you find yourself on Oahu in need of some sun and a few cocktails. With some of the island's most luxurious hotels as your back drop, and the perfect white sand, it's easy to imagine the Polynesian royalty that used to gather here centuries ago.
Kauna 'oa Beach, The Big Island
Known as one of the best beaches on the big island, Kauna 'oa is the idyllic place to spend a day or watch the sunset. The perfect sandy shores of this beach make it a favorite, but parking is extremely limited. Plan on arriving early, especially on weekends to snag one of the coveted parking spots.
Kaanapali Beach, Maui
This is a great Maui beach for relaxing, walking along the shoreline or testing out your skills in the water. The beach gets relatively busy but is big enough that guests can still spread out. Easy access to nearby shopping and restaurants makes it a perfect destination during your stay.
Ho'okipa Beach, Maui
More than a beach, this spot is actually known as a beach park. Famous for windsurfing and partying, it's a lively place to check out during your stay in Maui. Pull up a chair to watch surfers and windsurfers or walk the beach in search of sea turtles sunning themselves. And if you are lucky enough to see one, be sure to give these guys the same courtesy you would any other beach guest by not getting too close.
Poipu Beach, Kauai
This Kauai beach (which is rumored to have some of the most beautiful coastlines in all of Hawaii), is a great place to spend a day. There's plenty to see and explore in the area and it's a good beach for families and groups. Conditions are perfect for swimming and snorkeling in the small cove on this beach, and visitors tend to see quite a bit of wildlife here— including large fish and sea turtles.
Waimea Bay, Oahu
Waimea Bay is a great beach for the more adventurous traveler. Although parking tends to be limited, visitors are likely to find the beach relatively busy as long as the waves aren't too big— the main reason being that this beach is famous for its cliff jumping spots. Swimmers should be aware of tide patterns as undertow can be a real concern. If you're not the strongest swimmer, consider trying your first cliff jump somewhere else
Punaluu Black Sand Beach, Hawaii Island
This beach is ideal for those looking to get a little seclusion away from the crowds. Known for having an excess of wildlife and plenty of nearby hiking, it's a good place to spend a few hours outdoor exploring or relaxing by the water. Pack a picnic or wander nearby trails to experience the more remote side of the island.
Ke'e Beach, Kauai
Exploring this scenic beach is a must if you spend any time on the island of Kauai. With gorgeous vistas, and amazing geography nearby, it's the perfect place to wander and hike for a few hours. Crashing waves and hidden caves lend a cool perspective on this quiet beach. Sometimes frequented for cliff jumping, the beach may get busier as the surf calms down, but not enough to hinder your adventure.