The 'sharing economy' led by services such as Airbnb has led to a significant growth of the vacation rental market in the UK. Luxury rentals in particular, have proved to be lucrative when occupancy rates are high. However, attracting the discerning traveller requires the provision of an above-average abode. So, how do you make your listing measure up?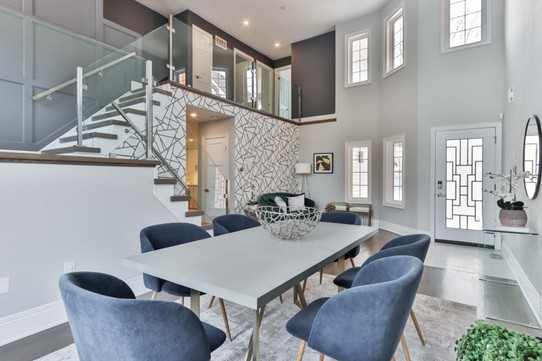 Interior Design That Attracts Guests
Designing a short term rental requires constantly keeping in mind its target market and location. Decide on a unique theme, create a mood board, then work your way through our list.
Durable Furniture
Your guests will be spending most of their time in the living room and kitchen. An uncomfortable, budget sofa will not only guarantee you bad reviews, it will also easily succumb to wear and tear. Invest in quality seating and top end appliances including the television, dishwasher, cooker and washing machine.
Make A Statement
Being able to stand out from competition will call for eye-catching and memorable decor features. Consider bold accents, art pieces, or rich wallpaper that will communicate luxury and make for great Instagram shots. That being said, avoid delicate ornaments as your breakage costs will be high. Instead, rather opt for sturdier materials such as high quality metals.
Bedroom Sanctuary
After a busy day attending meetings or visiting local sites, your luxury traveller wants nothing more than to rest in a relaxing bedroom oasis. Don't skimp on your pillows and linen! Choose only the best quality and keep them spotless.
The bed itself should be unquestionably deluxe. This goes for even the small rooms where kids might sleep. Shop for beds at premium furniture showrooms like FCI London to ensure that you get the highest quality pieces for maximum comfort and durability.
Opulent Mirrors and Metallics
A touch of gold or silver added to furniture and lighting can add sophistication to any room. Pair these metallics with beautifully framed mirrors for a glamorous look. A well positioned large mirror can open up a small space to give the illusion of grandeur. Look for mirrors in interesting shapes for an artistic feel.
Thoughtful Amenities
Getting those five stars and securing repeat visitors usually boils down to the extras. What can you provide for your guests that they can't get anywhere else? What local businesses can you partner with to provide curated experiences for your clients?
Maybe it's as simple as a gift card to a local attraction or providing a vehicle and driver for local trips. Think of your target market and their needs, then go the extra mile for them.
The Outdoors
Outdoor areas are often overlooked with the bulk of the decorating budget going towards interiors. Yet the pool, garden or patio area could be the very feature that attracts bookings.
Extend the luxury feel into the outdoors through high-end furniture and decor. Style for convenience, and include towels, grills, throws and crockery within easy reach.
Professional Photos
Finally, show off your property! Your bookings are dependent on the images you share. Hire a professional photographer and capture the best parts of your accommodation. Upload these with a captivating description and prepare to host your next guest.