Las Vegas is home to countless resident shows but none of them compare to Cirque du Soleil's Vegas productions. These world-class resident Cirque shows include Mystère at Treasure Island, O at Bellagio Resort & Casino, Zumanity at New York-New York Hotel & Casino, KÀ at MGM Grand Hotel & Casino, The Beatles LOVE at The Mirage Hotel & Casino, CRISS ANGEL Believe at Luxor Hotel and Casino, Zarkana at ARIA Resort & Casino and Michael Jackson ONE at Mandalay Bay. Anyone planning to visit the city should definitely be sure to catch one of these wonderful Vegas acts.
While all of these eight productions are must-sees, here's a closer look at five Cirque du Soleil Las Vegas shows that you absolutely can't miss. With a great variety of innovative productions, there's a Las Vegas show to fit any taste and budget!
KÀ
Located at the MGM Grand, KÀ is the coming of age story of a young man and woman as they encounter love, conflict and the duality of KÀ, which is defined by Cirque du Soleil as the fire that can separate, destroy or illuminate. Set on a 360-degree rotating stage, this cinematic journey is gravity defying and combines acrobatics, puppetry, projections, martial arts and more in a truly groundbreaking show that transports you to a wonderful world of adventure.
O
This timeless aquatic production performed in, on and above a 1.5-million gallon pool at Bellagio Resort & Casino weaves a tapestry of aquatic artistry and theatrical production while paying tribute to the concept of infinity and the elegance of water's purest form. The beauty of simple theater is celebrated in O, yet anything is possible in this truly unique and lavish voyage!
Michael Jackson ONE
The King of Pop's soul is alive and well in this immersive journey through Michael Jackson's career. Acrobatics, dance, visuals – and of course, music – combine to make this heartfelt tribute to the legend a can't-miss for anyone who wants to celebrate Jackson's legacy and innovative spirit.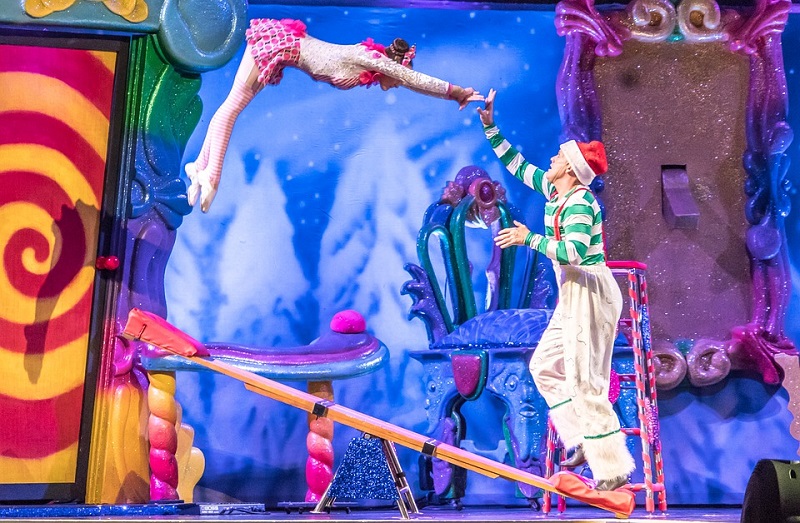 The Beatles LOVE
All you need is love at The Mirage in Las Vegas, home to this joint venture and the first major theater production that The Beatles company has agreed to produce! This rock 'n' roll poem, as it has been called, takes a journey through the heart and soul of The Beatles with extravagant costumes, colorful scenes, high-energy dance routines and aerial performances, making this show a true treat for both the eyes and ears! Beatles fans as well as their kids are sure to enjoy this spectacular musical journey.
Mystère
The original Las Vegas production, Mystère is the classic show that most fans would associate Cirque du Soleil with. Thrilling acrobatic acts, inspiring imagery and energy, powerful music and colorful costumes and sets truly changed the face of entertainment in Las Vegas when this show debuted in 1993. Now with millions of spectators and more than 10,000 performances under its belt, Mystère continues to ignite audiences to this day!